"God's work. Our hands." Sunday
CONTINUES through the end of October.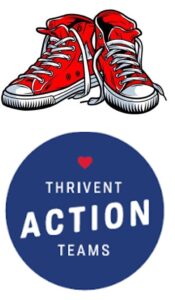 Wings – McLeod County
Wings is a mission project that works in partnership with Common Cup Ministry and McLeod County Social Services to provide children with supplies they can take with them to their foster care placement. Wings was started by a group of moms, aunties, and grandmas who want to help kids in our community who have been placed in foster care. We have wonderful foster care families in our community, and this is a way we can help and support them.
One of the items they would like to provide to each foster child is a new (or like new) pair of shoes.
We will be collecting new or like new shoes during the month of September AND October. There is a designated collection box placed in the Narthex.
If you would like to donate money to help us purchase new pairs of shoes, please designate your offering, and place in the offering plate or drop off at the church office.
We will also be applying for a Thrivent Action Team grant to help us purchase additional pairs of new shoes.