More About Mckenzie Ebert…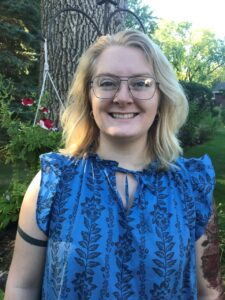 I'm excited to join Christ Lutheran Church as their new Information and Media Technology Coordinator! Everyone has been very welcoming, and I am glad to be a part of the team.
Prior to coming here, I worked as an Embedded Software Engineer at Sentera in the Twin Cities for 2 years, where I worked on agricultural imaging drones. I have schooling through both the University of Minnesota – Twin Cities and Ridgewater College.
I grew-up in Dassel, MN, but currently reside in Hutchinson. Pets are a big part of my life; I own two cats and two snakes at the moment and am hoping to get a dog in the future. I enjoy running a Dungeons and Dragons campaign on the weekends, listening to music, and leathercrafting. I can often be found singing along to musicals in my kitchen while experimenting with foods and flavors from around the world.