More about Pastor Elizabeth…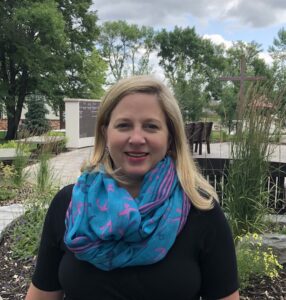 I am so happy to serve as Interim Pastor for Christ Lutheran, a vibrant, thriving community with a heart for mission both locally and globally. From the church council to the staff and beyond, Christ Lutheran is a wonderful place to be a pastor.
Before arriving here, I served churches in Kentucky, Missouri, Texas, and Oklahoma. I have a Masters in Divinity From the Virginia Theological Seminary, 1996.
I married Dan Becker, Glencoe class of 1981, on June 13, 2021 in St Paul and we combined our family with three grown children. I am adjusting to life in the land of lakes because I love the outdoors. I like swimming, knitting, and of course reading the Bible and depicting its salvation through the magic of felt.
Now that you know a little about me I hope we have an opportunity for me to get to know Christ Lutheran through YOU. If you haven't visited yet please consider this a personal invitation to worship or one of the many outreach or fellowship opportunities.