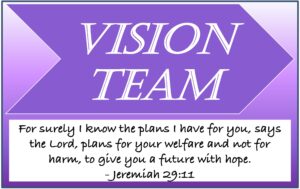 Welcome to the Vision Team's Web Page!
Thank you to all the members of the Vision Team for their work.
Holy God, thank you for Daris Remus, Dennis Davis, Marilyn Ueland, Parker O'Donnell, Alex Schons, Erin Sauter, Council President Vicky Harris, and Pastor Elizabeth, the Vision Team, who researched and analyzed data, and produced a mission profile to help prospective candidates to understand God's mission for Christ Lutheran and for Jodi Braband and Erin Sauter who skillfully crafted the profile into the document which will be published soon. Amen.
*From installation of the new CLC Call Committee on Dec. 12th, 2021.
CLC's Vision Team Members
Pastor Elizabeth
Marilyn Ueland
320.864.5394
Vicky Harris
Council President
320.327.2728
Parker O'Donnell
320.894.5682
Daris Remus
320.864.5301
Alex Schons
320.510.1083
Dennis Davis
612.750.0211
Erin Sauter
651.332.0696