More About Rev. Erik Karlson…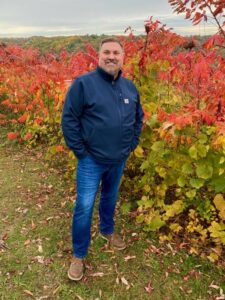 Rev. Erik Karlson grew up in southeastern Connecticut and graduated from Newtown High School in 1992. He enlisted in the United States Navy and received an Honorable Discharge. Erik graduated with a degree in International Politics from The Pennsylvania State University in 2000.
Rev. Karlson was employed with major financial services companies in Boston, MA and Santa Barbara, CA eventually finding his niche as a Chartered Retirement Planning Counselor. In the summer of 2012, Erik left the corporate world and began his studies at Luther Seminary in St. Paul, MN. He graduated with a Master of Divinity degree in 2015 and began his current call as Pastor of the three-point congregation Neighbors in Christ Parish in Winthrop and Gibbon, MN. He has served as an intern pastor in rural southeastern North Dakota and serves as a representative of the SW MN Synod (ELCA) Synod Council.
Rev. Karlson enjoys spending time with his wife, Rev. Amy Karlson of First Lutheran Church in Hector, MN. They were married in October 2015 and made their home, with their dog Deuce, in Hector. Revs. Erik and Amy were blessed with twins Emma and Andrew on New Year's Eve of 2016. Erik enjoys a good movie, travel, anything Red Sox or New England Patriots related, and living in beautiful, rural Minnesota.