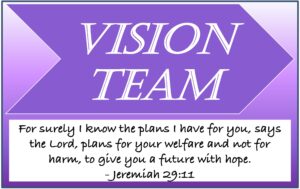 Welcome to the Vision Team's Web Page!
Please check this page often for news and updates regarding the Vision Team's work and updates on our search for CLC's next pastor.
If you have any questions, please feel free to contact any of the Vision Team members or Pastor Elizabeth.
Continue to keep all of CLC's leadership and members in your prayers as we continue this important work.
CLC's Vision Team Members
Pastor Elizabeth
Marilyn Ueland
320.864.5394
Vicky Harris
Council President
320.327.2728
Parker O'Donnell
320.894.5682
Daris Remus
320.864.5301
Alex Schons
320.510.1083
Dennis Davis
612.750.0211
Erin Sauter
651.332.0696
Ways for you to participate and assist in the search for Christ Lutheran's next pastor:
Scheduled Meeting Dates & Times:
Women's Bible Study on Tuesday, September 21st @ 10:00am
Zoom Meeting on Wednesday, September 29th @ 7:00pm
Sunday School Hour on Sunday, October 3rd @ 10:10am
Individual Meeting with a Vision Team member. (Date/Time scheduled with individual).
A Note from the Vision Team:
The turn of another season is just around the corner and, as always, there are many ways to get involved and invested in our church community's search for a new pastor. The Vision Team at CLC has been working on some of the preliminary information and timelines needed as we follow where the Holy Spirit takes us!
During this time of reflection and exploration about what we want in and for our church, there are many ways to develop this. One of the ways we would like to start with is a congregation-wide Kick-Off event on Sunday, Sept. 12th (also Rally Sunday) following the 9:00 a.m. service. As part of this event, we'll invite members of Christ Lutheran to sign up for opportunities to engage in conversations around the following questions:
What do you value most about our congregation?

How well do you understand our congregation's mission?

What parts of our mission get you excited?

In what direction(s) do you see our church headed? What does its future hold?

What does our congregation do well? What needs improving?

What are the greatest challenges our congregation faces?
Over the latter part of September and October, small groups, focus groups and one-on-one interactions will take place to assist the Vision Team in creating a cohesive representation of Christ Lutheran's goals, dreams, and ideals for the future. Eventually your feedback will be material for a public mission profile.
Please consider being part of the process in person,

on-line

, or through direct contact with one of the team members. We invite your feedback!
A Note from Pastor Elizabeth:
As we begin the mission assessment process, thank you to Erin Sauter and the Vision Team for hosting the conversations that will become the materials presented to prospective candidates for the next pastor of Christ Lutheran.
Please dedicate an hour this month to participate in one of the conversations offered. Your feedback helps paint the picture of the many ministries God has planted here, as well as the grace and compassion that fuel them.
The goal for the candidates who apply for the position of pastor is to feel a connection to the mission of Christ Lutheran and for Christ Lutheran to feel God at work in the calling of a new leader. To that end, would you begin by answering these questions in your heart:
Can you describe God in three words?

Can you describe Christ Lutheran in three words?

Can you describe your best friend in three words?

What is your heart's deepest desire?
Continue to prime your mind to appreciate the ways in which God connects us to one another.
What is the best way to get to know someone?
Remember the first question I asked you when I arrived was "Who was your first teacher?" I recall my preschool Sunday School teacher who took us to the church basement during the sermon and brought out tiny felt characters stuck on a storyboard. I don't know her name but the impression she made on me lasts. The way she could tell Bible stories without words led me to believe that anyone could understand the love of God in Jesus, not just the adults who could read.
As an adult I purchased a felt Bible character kit from Beulah Land (the-sundaypaper. com); then supplemented it with my own additional creations so I can tell the entire salvation story from Genesis to Revelation without a book.
I want to get to know God better so I will use every portal possible including creation, printed books, felt boards, and the light of God's son shining in the faces of those who feel the light and life of grace.
God bless you in this assessment and discernment.